24 hours in Detroit and Why You Might Like it...
Detroit is not typically on people's top list for travel destinations, but there is much more this historical city has to offer than people might expect. I should start by saying I grew up in the suburbs, 30 minutes outside of Detroit. I left Michigan however, at the age of 18 and I was never fully able to explore this city in all of its glory as an adult. Now that I'm a full-fledged adult with a license who can enjoy a glass of wine, I decided to spend 24 hours in Detroit, exploring the nourishing options this complicated and underestimated city has to offer.

Of course, there is no shortage of amazing museums, architecture and historical buildings in Detroit, however, I wanted to spend my 24-hours with some urban exploration and no real structured plan.
Quick and Itty-Bitty History Lesson on Detroit
Detroit, MI is known as the "Motor City" due to its strong ties to the automobile industry (Ford anyone?) Detroit is also the birthplace of Motown Records which gives it instant "cool" points, as well as the home of the Detroit Redwings, the Tiger's, Eminem and Francis Ford Copola (Director of The Godfather). By the 1950's the population had grown to almost 2 million residents but during the fuel crisis in the mid-1970's and the production of more fuel-efficient foreign cars, the US automobile industry and one of Detroit's prides and joy suffered. The recession in the early 2000's did not help at all. By 2013, Detroit filed for bankruptcy, making it the largest city in history to do so. With that said, Detroit is not a quitter and is picking itself back up and witnessing and embracing new business growth as it becomes a hub for start-up companies.

Is Detroit Safe?
It depends on who you ask, their travel experience and where they live. Many who say Detroit is an unsafe city have never visited Detroit. Based on the city's financial circumstances in recent years, it's crazy to think it was the richest city in America only a half century ago. You can see its economic struggles over the years through some of its abandoned buildings empty homes and pothole-filled streets. The city has however, been seeing a Renaissance over the last few years. To answer, yes, parts of Detroit are a bit "gritty," but so are other large metropolitan areas. There are pockets of hip, unique, historical and artistic areas and there are also pockets of areas with crime that you should avoid.
Like any city, practice caution, lock your doors when you leave your car and be aware of your surroundings. I travel solo with caution in Detroit in the same way I travel with caution in Europe or Los Angeles.

24 Hours in Detroit...
Work and Coffee
Trinosophes ("tree-no-sofe) located just outside the Eastern Market was a great place for a caffeine fix, getting work done and people watching. This large space is also sometimes used as a music venue and art gallery and provides a unique mix of hipster vibes, students and business meetings. Seating is communal with large tables, the chai latte was on point and the food menu included several vegetarian and vegan options.
Keeping it Local at the Eastern Market
After hanging out at Trinosophes coffee shop, I took a short 5-minute stroll to the Eastern Market. The Eastern market is an indoor and outdoor farmers market that is the largest historic and public market in the United States. Pretty cool. There are a variety of markets throughout the week but the most popular with over 200 vendors is the Saturday market, which is open all year round. That means when it's 5 degrees below zero in the dead of winter when it takes 20-minutes to scrape the snow and ice off your car and all you want to do is cry (maybe that's just me), you still have access to low-cost produce and local goods. I thought that was pretty impressive and showed commitment to provide locals as well as visitors fresh local products year round.
Street Art for Days
One thing I was not expecting was the incredible street art during my walk from Trinosophes cafe to the Eastern Market. There were a variety of artistic styles, and I've been told most of the art is done with city permission and authorized. None the less, you can spend an entire day exploring these amazing, creative and diverse pieces. There is a great website that lists many of the artworks throughout the city with photos here.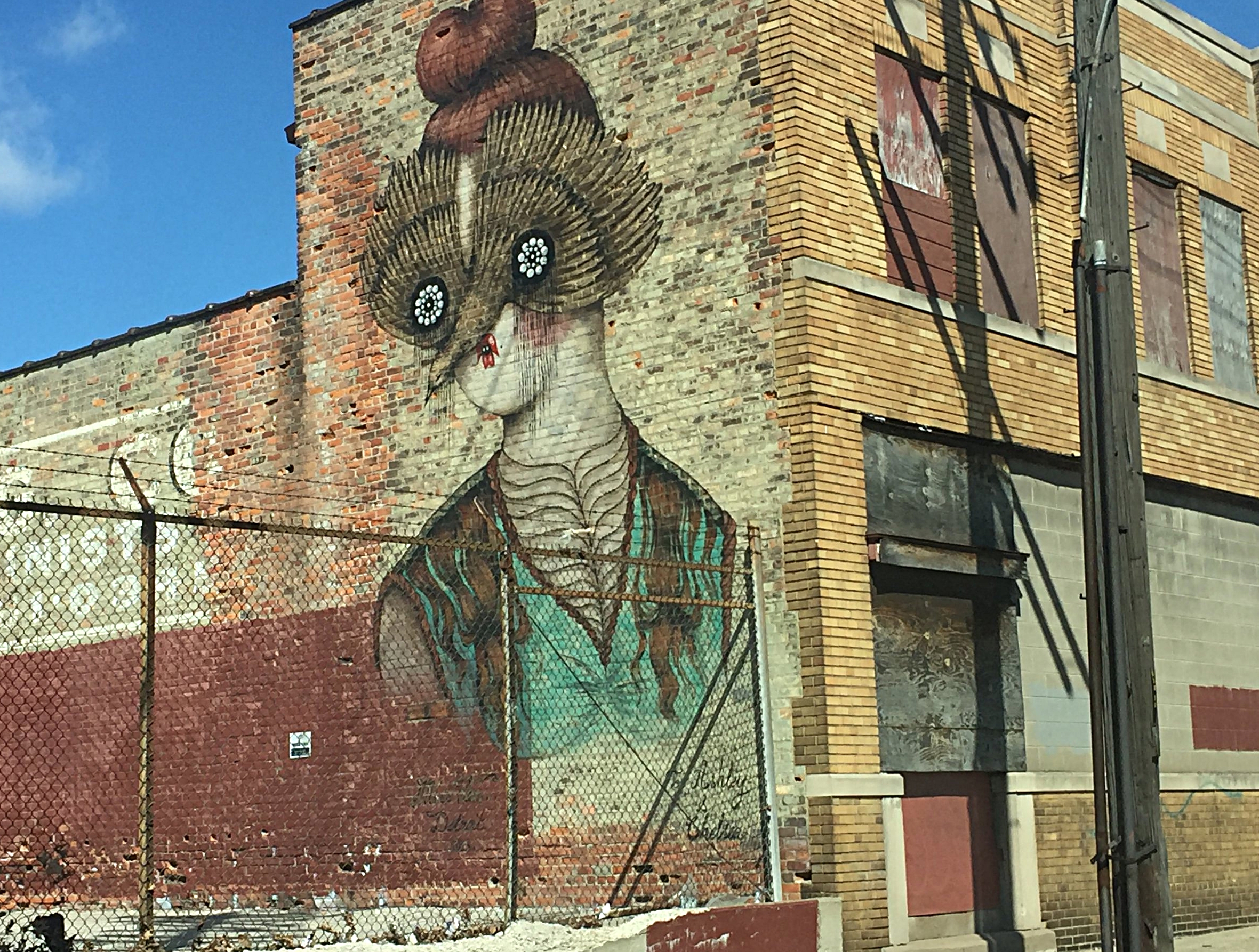 Opa! Greek food in Greek town
Originally settled in 1830, Greek town was firmly established in Detroit in the late 1960's. Today the charming area is deemed a National Historic place and is used as a restaurant and entertainment district. Greek music is played throughout the streets and there are several authentic Greek restaurants. I decided on the restaurant "Pegasus Taverna." I can't say I was overly impressed with the Greek salad, but the ambience was precious with a garden-like ceiling surrounded by tea lights and every so often I would hear an excited "Opa!" from a staff member as they served classic Greek flaming cheese dishes to patrons.
Bike, Walk or Run the Riverwalk
I enjoyed a lovely walk along the Detroit river-front on a chilly but sunshine-filled day. The Detroit river spans 24-miles and separates the cities of Detroit and Windsor, Ontario in Canada. Historically, the river front area was mainly used for industrial and warehouse purposes but investments are being made to create the riverfront as a premier place to live in the city. In recent years recreational and commercial developments have been made as well as residential condominiums and apartments. It was a beautiful riverfront and I imagine during the warmer months there are plenty of recreational activities along the river to keep you busy.

Small plates with a Side of Adult Beverages
I polished off my day in Detroit with creative small plates and cocktails at Wright & Company. It was pricey, but what you would expect in any city from a fancy gastropub with quality food and drinks and the Hibiscus sour was worth it. The vintage-style decor features tin ceilings, unique lighting and windows with city views-not a bad way to end my 24-hour D-town day.
 
In Summary
Detroit is cool, edgy, unique, special, and you might just like it. I imagine it's even better in temperatures above 25 degrees! Through discussions with people in Detroit (and eavesdropping at a coffee shop) there is a large amount of hometown pride from locals and I respect that.

During my 24-hour exploration, a friendly local handed me a flyer for his Documentary film titled The "Great Detroit: It was, it is, it will be." I love that.